Beyond the Bay,
Hiking The Appalachian Trail

BY SHELLY WEST
Tampa Bay resident Kevin Newsome knows a thing or two about tenacity and dedication, especially after hiking the Appalachian Trail, which encompassed 2193.10 miles, and took Newsome through 14 states on foot. Taking 171 days to complete, his hike started at Amicalola Falls in Georgia, which is eight miles south of the official trail start at Springer Mountain. But the journey really began in Tampa three years before his adventure.
In 2018, Newsome walked into a bookstore where hiker and author Jeff Alt gave a presentation and book signing about his earlier hike of the Appalachian Trail.
The seed was planted, and it didn't take long for the spark to ignite into a full-blown pursuit of an epic adventure.
It took a lot of planning and determination to make going on the hike a reality.
"It's a romantic idea to walk away from everything and go on an adventure," Newsome says.
While most would train extensively to endure the physical rigors of such an excursion by foot, no less, Newsome didn't physically train at all. Rather, he did extensive research, from watching YouTube videos to reading 21 autobiographies or journals of others who hiked the Appalachian Trail.
To prepare for the time that he would be away, the established photographer in the Tampa area for nearly 35 years sold their house and bought a condo. They paid things off to reduce their debts and lowered their overall financial requirements. It was a big decision, but he also closed his beloved studio
and took his photography to location work instead of in-studio. A wise business move, as the lockdown in 2020 would present a new set of challenges for everyone.
The lockdown would also delay his departure originally scheduled for March 2020.
Another difficult decision had to be made.
Newsome says, "It was difficult at first, but the trip had to be postponed. It was necessary."

Eventually, he departed on March 23rd, 2021. Newsome set off on what would become the next chapter of his life, which he then made into a book to be released later.
Walking an average of 12 to 14 miles a day, and taking less than six months to complete the full trail, Kevin relied on adrenaline to power him through the most difficult parts of the journey.
"I never questioned my ability to finish," he adds.
The most memorable part of the trail was in New Hampshire at the Franconia Ridge Trail Loop.
"I was above the tree line where you can see other states. The peak of the White Mountain range was so clear. But there was a slight rainstorm, and I could see my shadow standing in a rainbow circle several yards away. It was breathtaking."
He adds, "Mt. Washington was also an adrenaline rush. It is the most dangerous on the trail. It is prone to high winds. In 1934 it had a top windspeed of 231 miles per hour—not associated with a tornado or other weather events. I camped at the base of the mountain under blue skies. The next day, I got it at its reputation. The weather was rough."
The Appalachian Trail can be quite isolated. There are times when there is not a soul around, and the only sounds you hear are those of your breathing and nature's songs. The further North he got, the fewer people he encountered.
There were some days you didn't see anyone. There were times when there were 100 miles of wilderness. Literally 100 miles of nothing. I had food drop shipped in the middle of that 100- mile stretch near Abol Bridge."
Roughly 20% of those who register each year make it to the trail's end.
Over 200 trail shelters can be found along the trail and are around five to 12 miles apart. Each of these shelters offers a privy (outhouse) nearby and often a water source. Each of the shelters and accompanying privy varies from location to location. Most shelters offered a place to eat at a picnic table, and the hiker could sleep in what was usually a three-sided lean-to shelter.
Though often, the sleeping arrangements consisted of sleeping in his tent. If the weather was too inclement to camp, there was also the option of leaving the trail for a hostel, motel or a bed and breakfast.
Along the way, he encountered "trail magic," people who hiked the trail or want to hike the
trail and are there to assist other hikers. They will often show up with food and other items to give the hikers support.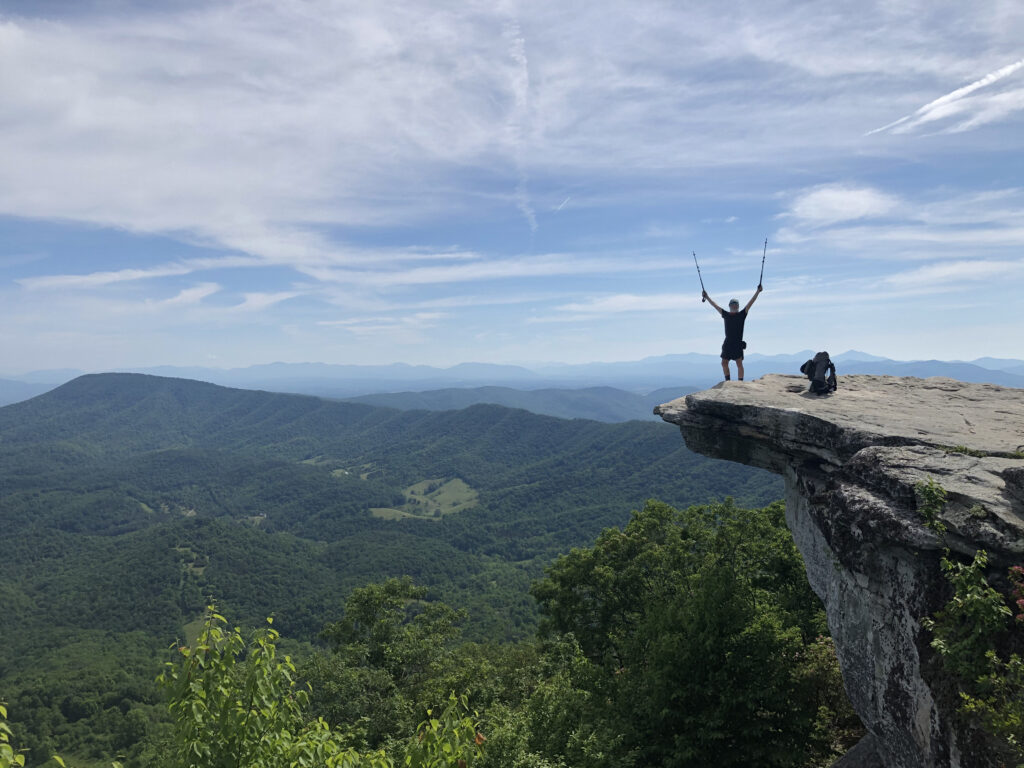 A typical day of eating for Newsome, who incidentally lost 36 pounds on the hike, was what one would expect. Everything he had with him had to be lightweight as it was all carried on his back.
For breakfast, he ate oatmeal packets with honey and dried fruit. He snacked on protein bars and beef jerky or made tortillas with peanut butter and honey. Sometimes he changed it up to a tortilla with tuna and barbecue sauce. He could heat water, so even dinner was creative with Knorr's pasta sides and instant mashed potatoes. For a treat, he ate Reese's Pieces.
Newsome stayed mostly healthy, except for minor ailments and occasional injuries, which is remarkable considering all of the things that could go wrong, like encounters with wildlife.
He did see two bears, but he never actually saw any moose, "But I sure could hear them. They sounded like Clydesdales," he laughs.
"I did encounter rattlesnakes, though. A tree had fallen on a trail, and I stepped over the tree, and there was a snake about 18 inches from my foot. It would have been a different outcome if I had stepped any closer. I saw him, stepped off to the left, and could back away from it. I was lucky."
After traveling on foot through 14 states, trekking up treacherous mountains, and surviving plummeting temperatures at night and sometimes blistering heat during the day, Newsome's tenacious spirit allowed him to summit on September 10, 2021.
He met his goal. He finished the trail.
To learn more about his adventures, go to his YouTube
channel at:
https://www.youtube.com/channel/UCTWPiN81Eb6laUrzIMBoRXA