The Old Bakery (Paddy Wagon's)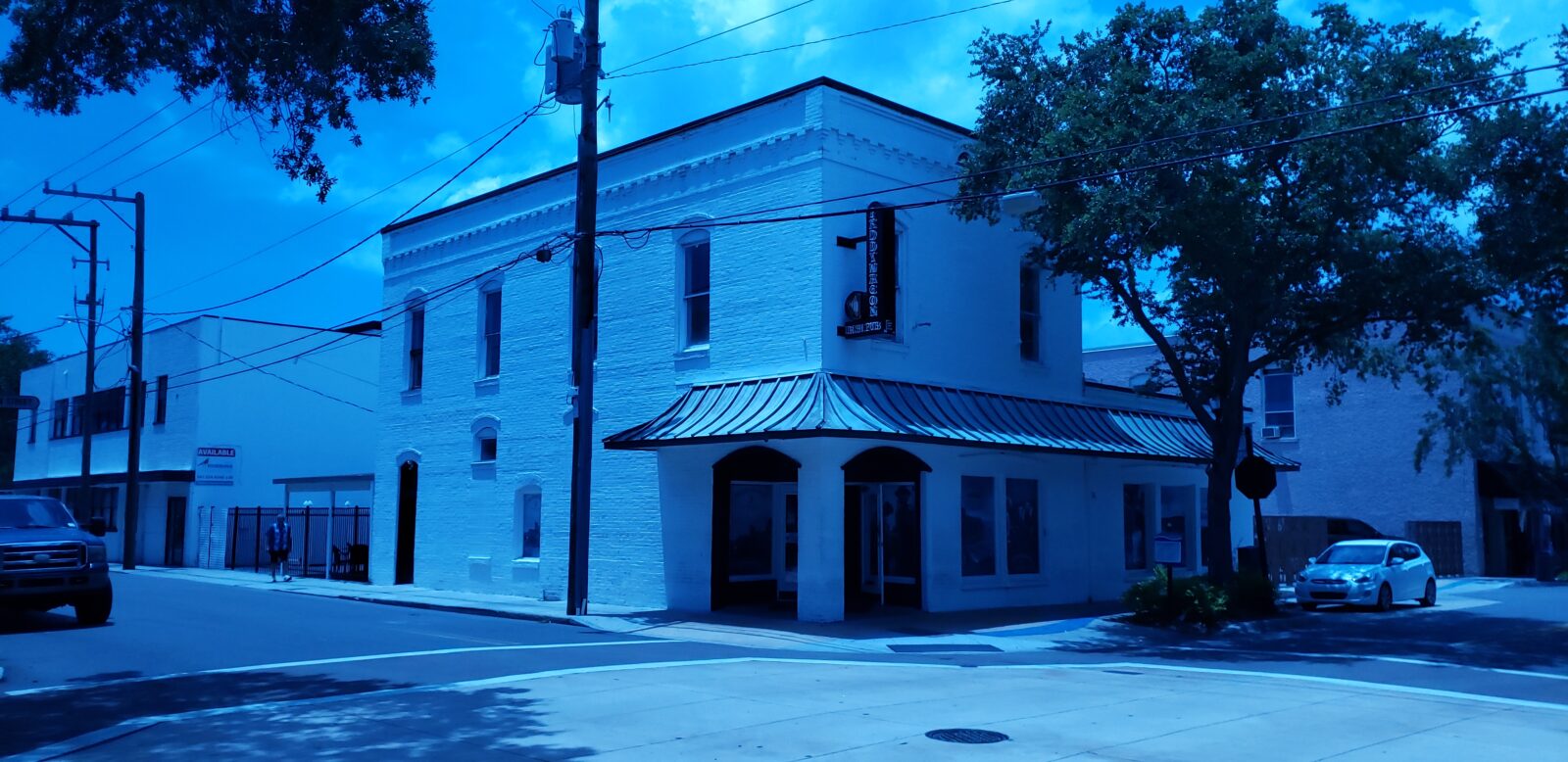 BY LIZ REED
CO-FOUNDER OF PSOBFL
AUTHOR OF HAUNTED MANATEE COUNTY
OWNER OF DOWNTOWN BRADENTON GHOST WALK
On the corner of Old Main Street and Third Avenue sits the "Old Bakery Building." It was built in 1910, and the original façade still stands today. The top floor was office space and was relegated to the Bradenton Board of Trade and bank officials. Over
the years, the building went on to house the Union Bus Station in 1926 and the Yellow Cab Company. Several different printing companies were there in
the 1930s. Carousel Antiques was the last tenant for many years, having closed in 1977. After that, the building sat vacant until relatively recently.
An official name for the bakery was never recorded as far as I can tell through my research, but locals recall stories of the place from their great-grandparents. The ovens were in a single-story addition on the southwest corner of the back parking lot (Paddy Wagon's outdoor seating area). Having the ovens in that location helped to keep the interior of the building cool, as there was no air conditioning at that time. The bakery was known for its fabulous orange cream puffs and had absolutely,
hands down, the best chocolate cake one could find in Bradenton.
Some people recall that the baker's name was Dave, and he was most known for his moist, delicious chocolate cake. One of the bank officials loved Dave's chocolate cake so much that, weekly, he sent his wife to get a cake (I've found this to be funny since he worked on the floor above the bakery). Dave and the bank official's wife fell in love. The bank official later discovered the affair and allegedly had Dave killed. I don't know all the facts of this story, but I do know for a fact that Dave is back at the bakery still baking his delicious items today.
As Dave has told us, and as verified through our EVP sessions (voice recordings), "[She] was the love of my life", but, be careful ladies, he's still an inveterate flirt!
Dave is also known to say his chocolate cake recipe died with him. He has only revealed to us that he used lard, which is not a common item used much today. Dave is still hard at work but loves to take a break to talk.
Sometimes while standing around the outdoor area, the smell of cinnamon or freshly baked bread will suddenly fill the air. But if you attempt to find the source of the delicious aroma, there's nothing there.
There are a few other spirits in the area and in the building. Catherine, for instance, is a young woman believed to be 16-17 years of age and who loves to have music played for her. ABBA's "Dancing Queen" is her favorite. Catherine was discovered by one of our tour guides, Kyle, who did an investigation with us of the building itself.
Kyle had been standing in a room upstairs and started getting hits on a K2 meter (a device that we use which allows spirits to answer yes or no questions. The meter lights up for yes answers). He was the first person to make a connection with her. We could also hear her voice.
Kyle has since moved, but he did promise to come back to visit her. She came out to let us know that she is upset with Kyle for not coming back to see her. She doesn't come out too often anymore.
We also have spoken with Samuel, an 8-year-old little boy who loves to talk about stickball. When talking to him you must remember to use stickball terms. A score is a home run, and, yes, they used sticks rather than bats. He has informed us through questioning that he was a left-handed pitcher and made 33 scores in his eight years. A baseball player joined us on a ghost walk one night, and he told Samuel that he never made 33 scores so far in his career. Samuel has also informed us that girls are "icky," but what else would you expect from an 8-year-old boy. When children are
on our ghost walk, Samuel gets excited. He loves to have other children to talk to.
We do know that the spirits of Samuel's parents are also there. Alex is his father, but his mother has never let us know anything about her. Historical records
show the family drowned in the Manatee River in 1850, after dredging created some inconspicuous deep areas. Over a hundred people were lost that summer, accidentally entering deep water and being unable to swim.
There is the playful spirit of an older gentleman in the building. He loves to play hide-and-seek, going from room to room and making you look for him.
We also met Rose. She and her husband had some drinks at the bars on Main Street and had their small daughter along. Her husband told her he felt too drunk to drive home, so Rose got behind the wheel. She drove down the street and hit four parked cars, killing her husband and infant daughter. She fell into a deep depression and took her own life. Rose is earthbound until she can release the guilt. Only then will she be able to return to her family. I hope that will be soon.
With the revitalization of downtown Bradenton, the Old Bakery Building has new life. For a time, there were plans for a Mexican restaurant, but ultimately Paddy Wagon's moved into the building and is there today for you to enjoy. We have met many of their staff members while conducting ghost walks. I have to say that I love the figures they have put in their front windows on the second floor. They're always a big hit with our groups.
If you would like to speak with our spirits, I invite you to join us on a ghost walk. We will show you how to use the meters. You may be able to speak to the spirits yourself, and maybe even make some otherworldly friends. Our walks are held Tuesdays through Saturdays starting at 8pm. Call 941-704-0621 for more details. Tickets are $20 per person, payable through PayPal.