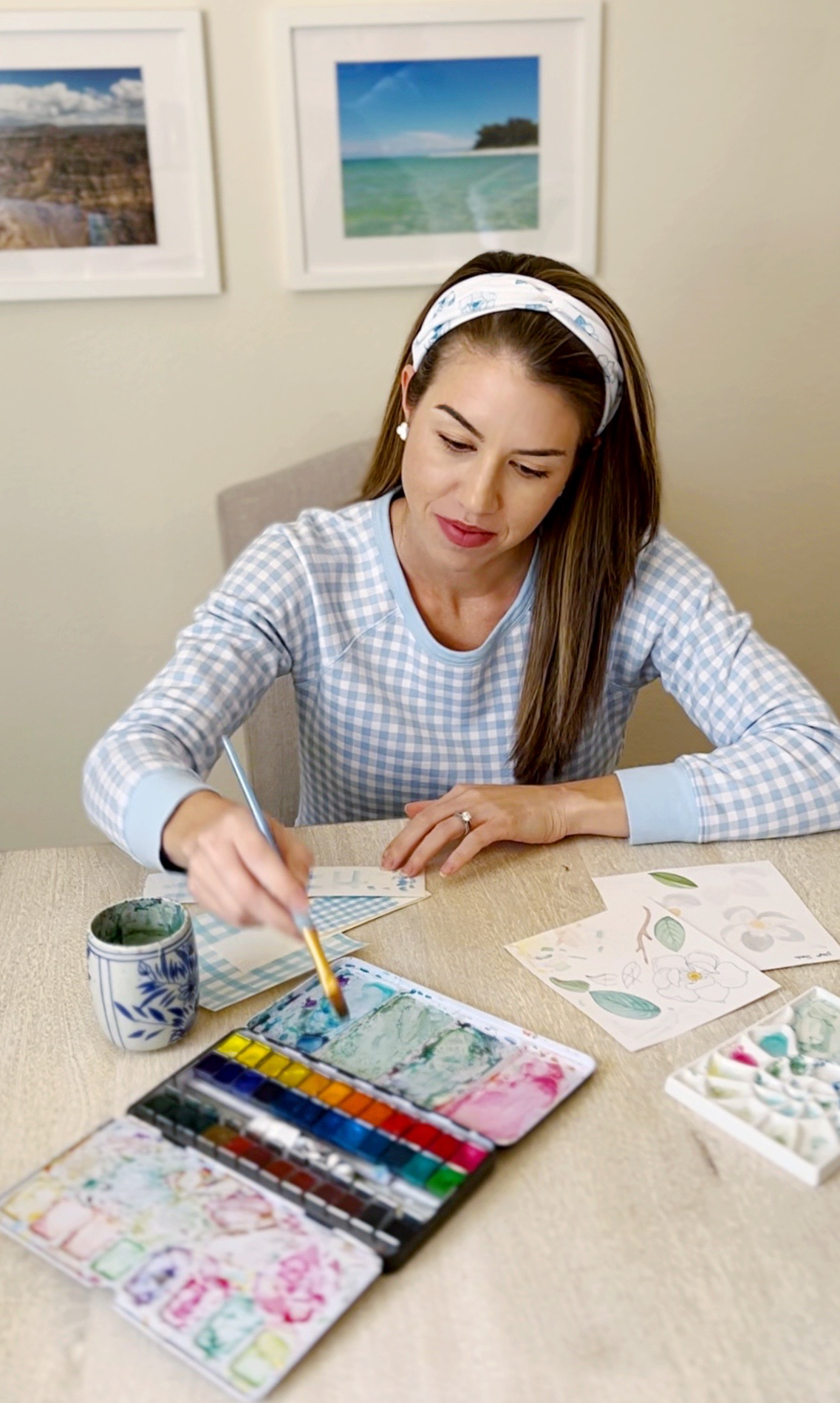 BY EMMA TAYLOR
Local surface designer and artist Stephanie Troxler wasn't always on the track to become a creative entrepreneur. While attending high school in Ocala, Troxler dreamed of attending the University of Central Florida to study biology and become a dentist. She did eventually receive a Bachelor's Degree in Science from UCF, but after getting a first-hand glimpse at dentistry through an apprenticeship, Troxler decided to redirect her professional aspirations to the world of dental hygiene. She attended dental hygiene school at Santa Fe in Gainesville where she met her husband, and the two decided to relocate to his hometown of Bradenton.
"I love the beach, so it was an easy sell for me!" Troxler says of the move. Her love of the coastal lifestyle and her family's immersion in it quickly became an inspiration for her future artistic pursuits. "I worked as a hygienist for about six years, both locally and in Sarasota, and I still have my license. But when the pandemic hit, and I had my twin girls in April of 2020, we couldn't go back to work and everything was shut down. Like many people, I turned to finding a hobby," she says of the early days of her career shift.
Troxler has always been creative — a self-identified doodler and drawer who often painted with acrylics — but it was her love of the watercolor aesthetic that led her to test out a new medium, and she quickly became hooked. "When the girls [her daughters] would be napping or in bed, that would kind of be my time to decompress and really just do something for myself. I felt like it brought me a lot of peace during an uncertain time — not only because of the pandemic, but as a new mom," she expresses gratefully.
Troxler began posting her work on her Instagram and started receiving accolades and inquiries from friends, family, and followers. Riding the tide of positive feedback, she opened her Etsy shop in January of 2021 and began offering commissions. Her first big sellers that kept her "booked up for months and months," were her hand-painted champagne bottles. Patrons were requesting them for weddings, birthdays, bachelorette parties, and more. Troxler loved creating the keepsakes, but she found the production to be extremely time-consuming. While exploring ways to pivot her work for more streamlined fabrication, Troxler decided to teach herself surface design.
Surface designing is the process of creating seamless repeating patterns and designs that can be applied to products and fabrics. By digitizing and manipulating her original watercolors, Troxler found that she was able to create an easily replicable commodity that displays her artwork and lends it to a seemingly endless number of uses. She begins with one of her original paintings and utilizes Photoshop for color matching to ensure the authentic tone of the piece is translated to digital form.
"I started putting my designs on different products and slowly, but surely, I started building up a product line. From there, I started getting into different stores. I was not expecting it to go this way, but it was a progression of that side of the business where I was learning on the fly and teaching myself to do things — little fast forward, Little Blue Designs is not a hobby anymore! It's now my career. It's been a wild ride! When I first started, I was not expecting to be where I am now," Troxler says in surprise of her evolution.
The branding of Troxler's art business as Little Blue Designs serves as a nod to her identity and the things she loves. Her self-designed logo features a palmetto leaf to represent the state of Florida and her cultural roots, as well as her beloved blue French Bulldog, Luna. "She [Luna] is my little painting buddy. I wanted to make her the face of my brand. She's always at my feet when I'm working," she says lovingly of her pup and mascot.
Troxler is now reaching a stage where she's entertaining the idea of hiring some help. Her work can be found in several local stores, and she's even branched out to some merchants in Seaside and Ocala. Troxler's retail and commission success are all a result of putting her own boots on the ground. "Any time I find myself in a store that I feel like falls in line with my brand, I seek out the manager or buyer and basically pitch. Marketing myself has probably been one of my biggest hurdles. I'm kind of shy and being a salesperson doesn't come easy to me. It's something I've had to work at over time," she shares. But her tenacity and talent has resulted in several successful business relationships to date, and the opportunity is only growing.
Troxler's current body of work includes her art displayed on everything from stationery to recipe cards, tea towels, tote bags, and fine art prints. Troxler is passionate about her content, but also the origin of the vehicles she chooses display it. She tries to ensure that all of her products are sourced locally, if possible, but at least from North America.
Recently approached by Southern Tide to create a large original print for a new storefront slated to open in Winter Park in June of this year, Troxler is in the process of turning out her largest commission piece yet. She hopes to continue expanding and get the wholesale side of her business dialed enough to be able to attend large art markets and fairs. "I decided in mid-January that my word for 2023 needs to be 'outsource,'" she says with a laugh. "I'm still a one-woman show and doing everything is not sustainable. I need to get back in the studio. I'm hoping to bring on a helper or two this year."
Editor in Chief Paula Wright was inspired by one of Troxler's artistic maps of Anna Maria Island and requested that she do something similar depicting the Downtown Riverwalk for this issue of "Bradenton Magazine."
Troxler states the mission of Little Blue Designs is to: "Bring the sunshine state of mind into homes everywhere and make the everyday a little brighter." Her work can be viewed on her Instagram and Etsy pages @littlebluedesigns