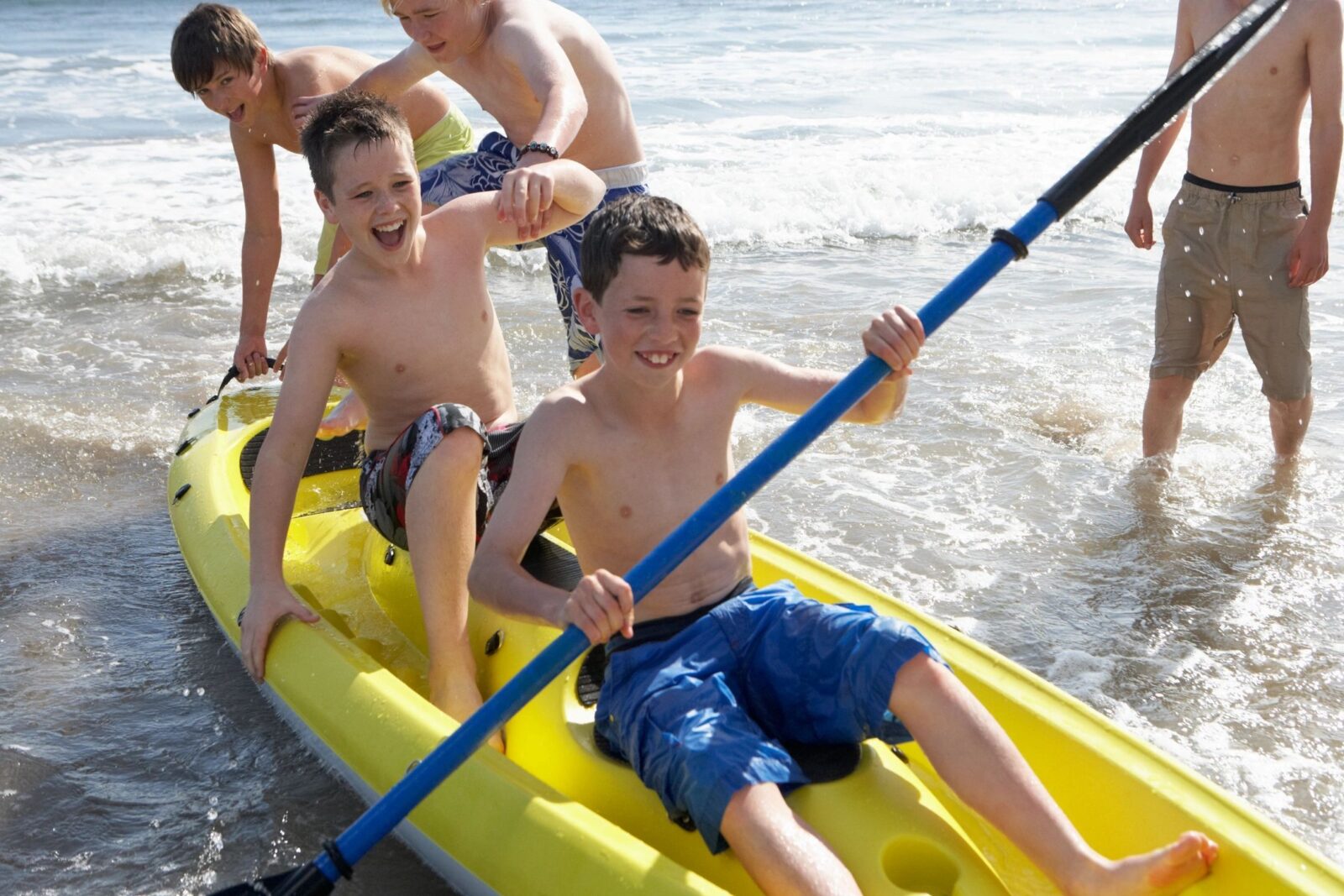 Manatee County has summertime activities for every kind of kid – from the athletic to the artistic.
By Kendra Gemma
While the schoolbooks may be closed for a few months, the learning doesn't have to stop in the summer. Sign your kids up for a summer camp that will expand their horizons, teach them new skills, and introduce them to new friends.
If your child has a wide range of interests, a more general camp – or an organization with a variety of options – may be your best choice.
The YMCA (https://www.ymcaswfl.org/programs/child-care/summer-camps), with camp locations in Bradenton, Lakewood Ranch, and Parrish, offers everything from a "traditional" camp to sports camps and specialty camps focused on cooking, ceramics, and science. They also have programs for teens up to 15 years old.
The Manatee County Parks and Natural Resources Department will host Summer Blast Camp (https://manatee.hosted.civiclive.com/departments/sports_and_leisure_services/ca p_programs/summer_blast_camp) at two locations. Recreational camps combine art, sports, wellness, and optional field trips to destinations in Tampa and St. Petersburg. The Junior Blast Camp caters to kids 14 and up who will help organize and lead activities for the younger campers. Specialty camps focus on athletic endeavors such as archery, basketball, and freshwater fishing.
Gracie Bradenton (https://bradentonsummercamp.com) takes a well-rounded approach. Participants will practice indoor sports and martial arts along with more creative pursuits like painting and crafts.
If your youngster has a specific passion or talent, we've put together themed lists of camps to help you pick the perfect one for your unique kid.
During the heat of a Florida summer, there's no better place to be than on the water. Manatee County Youth Rowing's Long Skinny Boat Camp (https://manateeyouthrowing.com/long-skinnyboat-camp) launches from Parrish's Ft. Hamer Park. Kids in 6th to 12th grades will kayak, paddleboard, and row on the Manatee River.
If you have a fearless child in your family, channel that daredevil energy at Live Training Center's Kid Ninja Summer Camp (https://livetrainingfl.com/kid-ninja-summer-camp/). The curriculum has the expected physical challenges but also crafting and character development lessons.
Tumblers and cheerleaders are a perfect fit for Phoenix Xtreme (https://phoenixtreme.net/ camps), located in Parrish. Besides the athletic activities, campers can take part in other events presented by local businesses.
For the Creative Type
Whether your kid is a visual artist or a performer, the ideal summer camp exists for your budding creator.
ArtCenter Manatee (https://artcentermanatee. org/shop/kidsart/) appeals to children's imagination with weeklong workshops that have themes like mythical creatures and superheroes and villains.
Have your kids ever dreamt of running away and joining the circus? They can this summer! At Circus on the Ranch (https://circusontheranch.com/camps) in Myakka City, they'll fly on the trapeze, juggle, walk a low wire, and tend to animals – to name
just a few activities.
At Jump Dance Co. (https://www.jumpdancecompany.info/summer-camps-and-summer-classes), kids from 2 up to 18 can enroll in a performing arts camp. The youngest will take part in dance, art, and music, while older kids might rehearse for a musical theater production or learn new dance moves.
Manatee Performing Arts Center's Summer Youth Education program (https://www.
manateeperformingartscenter.com/) covers all aspects of staging a show – from auditioning to set design to performing in front of an audience. Each of three sessions put on a different production.
Would-be rockers and producers will find their second home at Music Compound (https:// musiccompound.opus1.io/w/summercamp). New to Manatee County, it will offer weekly sessions for grade schoolers and middle/high schoolers on topics such as intro to music, songwriting, drum circle, and DJ and music production.
If your kid is most creative in the kitchen, sign up for culinary camp at Pineapple Kitchen (https:// pineapplekitchen.com/charcuterie-%26 more/ols/products/pineapple-kitchen-kids-summerculinary-camp-ages-7-14-choose-a-4-day-week-in-june-or-july-2023). For 7- to 14-year-olds, the four-day workshop culminates in a four-course graduation dinner for their families. Young chefs will learn food safety, presentation skills and even etiquette in addition to meal preparation
For the Adventurer
When many of us think back on our summer camp experiences, we picture days in the wilderness, on a lake, or doing some other outdoor activity away from city life. If you want your kids to have a similar adventure or if they're simply nature lovers, Manatee County has a few ways to fulfill your (or their) dreams.
Aspiring equestrians should register for Myakka River Trail Rides' horseback riding summer camp (https://myakkatrailrides.com/horseback-riding-summer-camp.php). The five-day program accepts just six kids to ensure each one gets enough attention and instruction.
Did you know that special needs kids have their own special camp in Manatee County? Foundation for Dreams' Dream Oaks Camp (https://www.foundationfordreams.org/) was created for children with different abilities and chronic illnesses. The residential camp runs from Monday morning
through Friday afternoon. Activities, depending on each individual's abilities and strengths, range from canoeing and nature programs to talent shows and drum circles.
For the Scientist
Future marine biologists, video game developers, or any children who wonder how things work can exercise their inquisitive minds this summer.
Curious kiddos will love Bishop Museum of Science and Nature's Summer Science Camps (https:// bishopscience.org/science-camp/). Elementary schoolers have eight weeks' worth of topics to explore, including native Florida flora and fauna, deep space, and ocean predators. Middle schoolers have two two-week camps to delve into: Fossils Rock! and Engineering and Space 2.0, where they'll build their own space machines.
Have a kid you can't pry away from the computer or tablet? Make it a productive endeavor by enrolling him or her in the Coder School's Coding Camp (https://www.thecoderschool.com/locations/ sarasota/#camps). Participants can create their own Minecraft or Roblox games by the end of the weeklong camp or develop a website (while learning about internet safety). There's even a week
devoted to artificial intelligence.
Most of these camps are one week long, so your kids won't be committed to just one experience all summer. Why not sample a few for a well-rounded season? They'll learn a lot, meet new friends, and never be bored! It's a win-win for everyone!